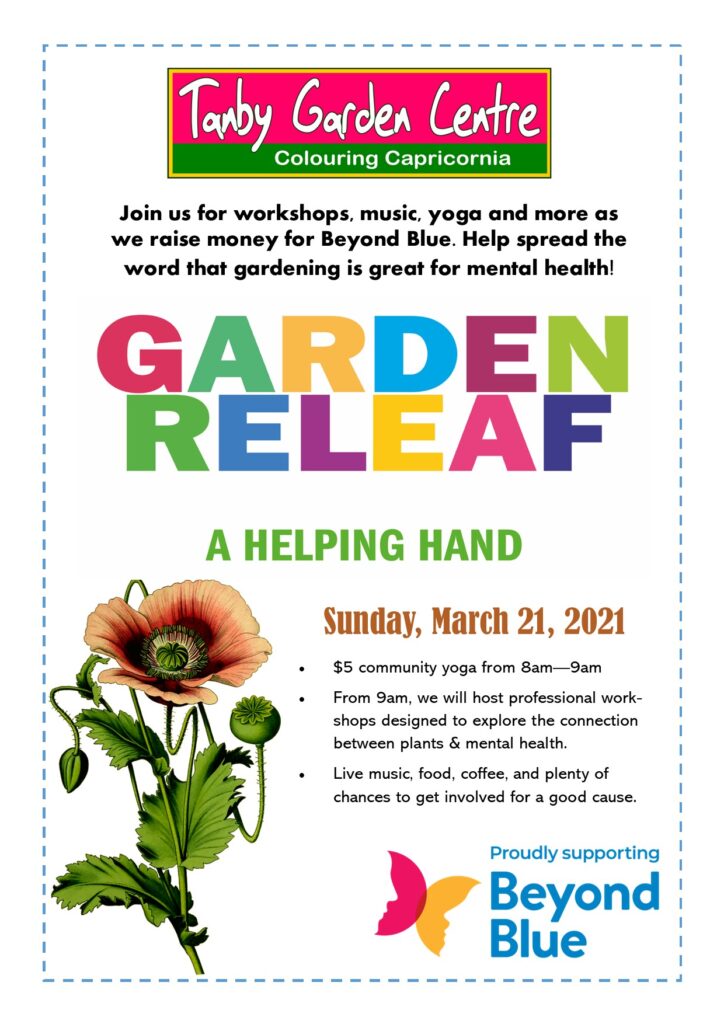 Each year across Australia, garden centres and nurseries come together to raise money for Beyond Blue as a part of Garden Releaf.
Our goal is to spread the word that gardening is good for the soul and an excellent way to manage stress, anxiety and problems that arise from our mental health.
This year, we're hosting a massive gathering with community yoga, workshops, music, and more.
Join us at Tanby Garden Centre on Sunday, March 21, 2021 for a great day of celebrating plants and wellness.
—-
8:00 – 9:00: Mental Health Movement – Community Yoga ($5 entry – all donated to Beyond Blue)
9:15: Coffee Hub opens
9:30 – 10:15: Indoor Plants and Wellness with Kay Pearson (Horticultural Specialist at CQU) FREE WORKSHOP
10:30: Live acoustic music by the local & briliant Scott Foden – https://m.facebook.com/scottfodenmusic/
12:00 – 14:00: Painted Pot Plants Workshop with Jules from Aphrodite Art School*
*For more information, go to https://www.facebook.com/events/125692552733949/

*50% of proceeds from painting workshop donated to Beyond Blue – tickets available at http://www.beltera.com.au/…/painted-potplants-for…
—-
Bring the family! We'll have food options but you're welcome to bring a picnic and spend your whole day with us in a beautiful and peaceful location. If you'd like to be involved in any way, please get in touch. The more, the merrier.
See you then!