Palms are an iconic tropical beauty, known for their hardiness and great heights. Used for landscaping, erosion control and wind breaking in coastal regions, palm trees are dependable and beautiful in their many forms. At Tanby Garden Centre, we have the palm trees Yeppoon and Emu Park can rely on in any season.
Why do we love palm trees?
low-maintenance (next to no pruning)
gives a tropical feel to any property
pest and disease resistant
great for screening, shading and wind breaking
there are so many varieties in different shapes and shades
you can fertilise them a couple of times in the growing season and then leave them be
Our Palms
We stock a wide and ever-changing range of palm trees so visit the garden centre to get a complete idea of what we have in stock right now. More often than not, we have our most popular palms in stock!
Golden Cane Palm
One of our most popular palms, the Golden Cane is attractive and easy to grow. They tend to form in clumps of up to a dozen trunks. Looks fantastic as edging around a pool or patio, and can also be grown in tubs.
full sun to part shade
grows to 7m
can grow indoors with filtered light
requires moderate water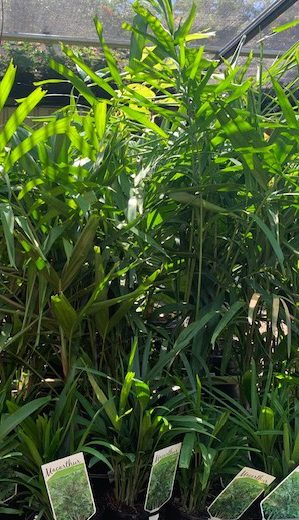 Macarthur Palm
This palm is slender, feather-leaved, and elegant. Because it is native to Northern Queensland, the Macarthur Palm can tolerate full sun from a young age. Grow in a sunny position in free-draining, humus-rich soil and water well in dry periods.
full sun
height 2-4m
can grow indoors for short periods
requires high levels of water
Bamboo Palm
Originating from Mexico, the bamboo palm gets its name from its densely clumping stems and feathery fronds. You can use bamboo palms for landscaping, placing in containers in a shaded outdoor area, or keeping indoors in filtered light.
part shade/shade
height 3m outdoors
can grow indoors in well-lit positions
requires moderate water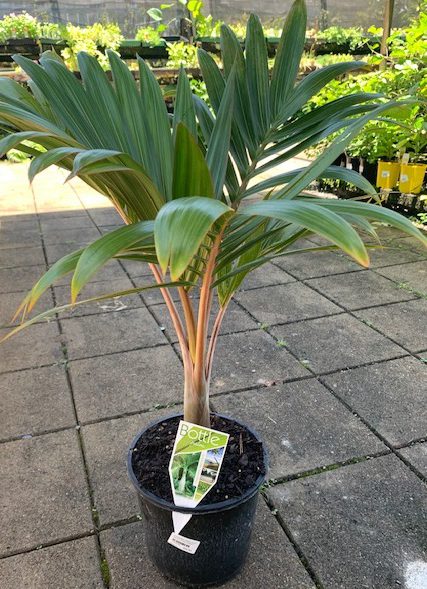 Bottle Palm
Bottle palms make incredible focal pieces in gardens due to their unusual and distinctive shape when fully grown. They look great when used in contrast with other palms, highlighting their bottle-like trunk. Highly tolerant of coastal exposure and strong winds.
full sun
height 3-4m outdoors
warm to hot climates
wind tolerant
Fox Tail Palm
Fox Tails are gorgeous Australian natives. They have smooth, slightly bottle-shaped trunks and large weeping fronds that grow bushy like a fox's tail. These hardy palms will tolerate extremely hot sun, exposed positions, light frost, and dry winters once established.
full sun to part shade
height 10m outdoors
suitable for hot and cold climates
wind tolerant