A couple of months ago when our ridiculously long summer was still keeping on, we decided to start our herb garden. It wasn't a great time of year to start a herb garden in an sunny Eastern facing position, but we threw caution to the wind. Consequently, most of the herbs didn't do so well (doesn't help when you make the conscious choice to not fertilise, what the heck, garden's can take care of themselves, right??). But there was one real hero that stood taller than the rest, Tarragon.
This herb has withstood some pretty trying conditions, searing heat, lack of water and some howling(ish) winds. It is looking amazing at the moment, so we had to share pictures.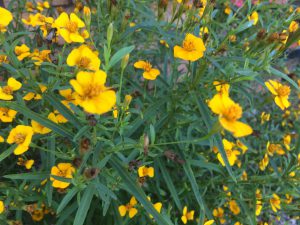 We love this one so much we have planted some more in the garden. Armed with the knowledge that we could never eat that much, but happy knowing that it is just so damn pretty! Every meal will have a Tarragon garnish from this day forward. The leaves and flowers are edible and have an aniseed/subtle vanilla flavour that goes well with cheese, eggs, chicken and fish.
Since initially torturing our herbs, we thought we might show them some love and give back for all the loyalty they have shown us. We have fertilised the garden beds with Dynamic Lifter to give them a boost and now we are following up with a regular fortnightly regime of eco-aminogro and eco-seaweed. In our opinion, these two are the best quality organic fertilisers available on the market to date. I can only begin to imagine how well our vegies and herbs are going to grow now, let alone taste!!
Most of our herbs are beginning to take off now. We love growing and cooking our own herbs. Not only do they have maximum flavour when they are picked fresh from the garden, but they save us a fortune! What we pay for one plant is the same for what we pay for one bunch at the supermarket. Picking from the herbs encourages growth, so eating them actually saves us MORE money. Yay!
Just about to plant this bad boy. Yes, you're right, chillies are not herbs, they are fruit, but they are an aromatic in cooking and that is good enough for us. The label doesn't tell us the variety, but it does tell us it is medium heat, so it will be a good all round chilli for most dishes.
 The sage is really starting to take off.
Stay tuned.. this is the perfect time of year to plant seed potatoes.