It has been a month since our last blog post. We stumbled across a particularly nasty and persistent virus. There were sore throats, coughing, snotty noses and blocked ears. Some of these lovely attributes still linger. You're probably wondering why I am telling you this, after all, it is a bit gross.
It was Hypocrites (the father of medicine) that said "Let food be thy medicine and medicine by thy food". Even though there were moments of weakness, when ice-cream and chocolate abounded, it was our veggie patch that really came into it's own. Having fresh vegetables at our finger tips meant that we were growing medicine in our backyard.
When we were too tired to take a trip to the supermarket we could stagger outside, into the healing sunlight and pick ourselves the makings of a spring vegetable soup. We harvested carrots, shallots, celery, turnips (still), leeks, a chilli and fennel. We threw the chopped veg in a pot with some vegetable stock, chopped garlic and ground Szechuan pepper corns, cooked it for 20 minutes, then consumed the delicious and nourishing soup.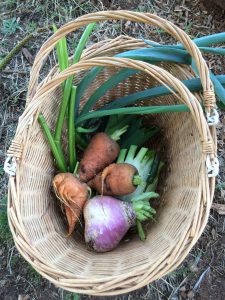 The carrots that we are currently growing look a little strange, but it is safe to say that their flavour has not been compromised. Our veggie patch has a lot of nitrogen (which is great for growing anything leafy), but our carrots have mutated into super, multiple-legged, fat things. It is kind of fun to discover the strange, individual shapes that they have taken on each time one is plucked from the earth. And, our shallots are look wind blown due to the high winds that we experienced last month. Again, they taste fantastic, so we don't mind a bit.